Well, today it's all about the quick coupling. I think this is the first time I have talked about this topic. It was about time.
If you want to know more about the quick coupling you can read this article which takes 5 minutes. Hey, and if you like and appreciate other topics related to threads, valves, or siphons I have a youtube channel where I explain everything. Click here if you want to know what my face looks like.
Well, what we were getting at.
We use quick couplings in a variety of industries for applications where hoses and pipes need to be connected and disconnected quickly. Hence the name. Quick couplings are often used in pneumatic (air) and hydraulic (fluid) applications. Our quick couplings are general-purpose and very versatile. We can use them in a wide range of applications where el, gas, steam, water, or oil require quick, easy, and leak-free connection and disconnection.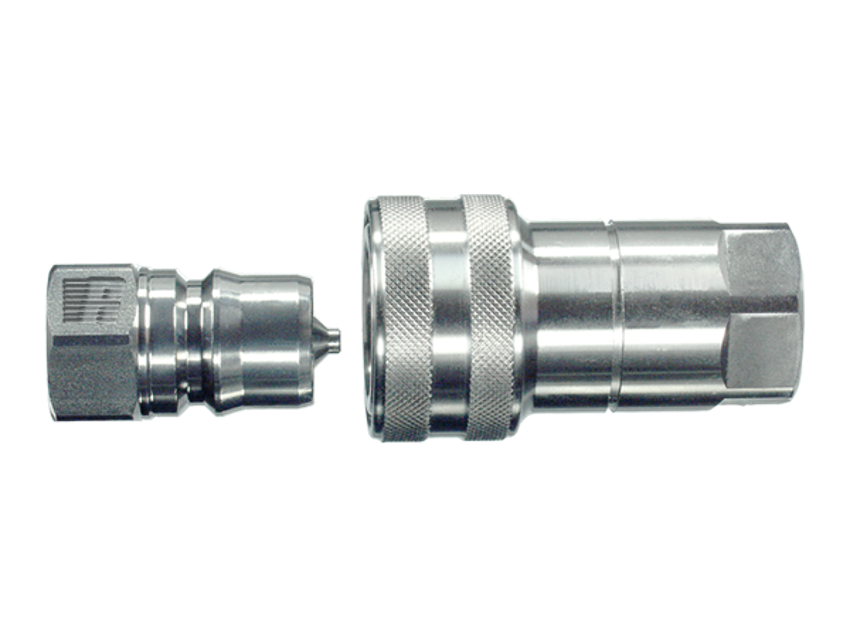 How is a quick coupling formed?
What parts do we have? The quick coupling consists of a male and a female adapter. They allow you to connect and disconnect lines quickly and easily.
What is the male part of a quick disconnect coupling?
Jack is another name to call the male part of a coupling because it's the part you insert into the female part. Generally, the male part is in a fixed part to make quick and periodic connections and disconnections with other pipes or hoses. It is for this reason that they normally have a thread for such installation. Normally in Redfluid, this thread is female, either BSPP or NPT. This male part retains itself so it does not leak when disconnected.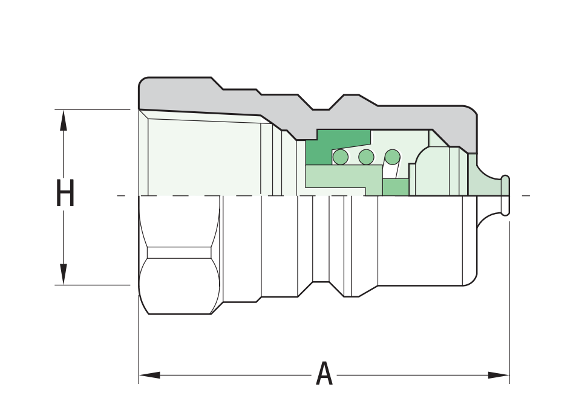 What is the female part of a quick coupling?
Let's go to the female part of a coupling.
The female part of a coupling or quick connector or the socket is the part that contains the part known as the shut-off valve. That is, it is the part that ensures that not a drop of fluid is spilled when making connections and disconnections. Once the male part is coupled with it, the pin allows the valve to open. This then creates a completely leak-tight connection that is highly resistant to high pressures.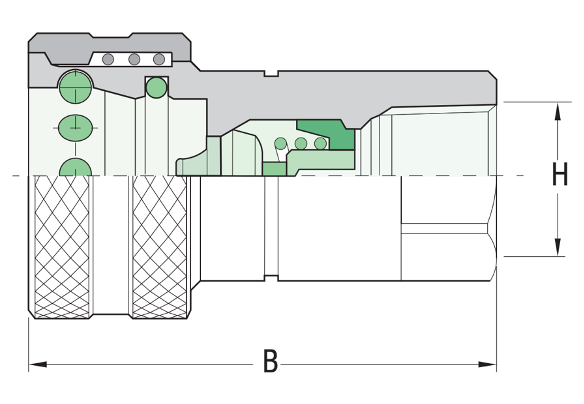 What does retention on both sides mean?
The concept of retention on both sides is very easy to understand. It means that the quick disconnect is capable of retaining fluid on both sides, not just the female. This ensures that there is no loss of flow at either end of the connection at any time.
What is the pressure and temperature ratings of a quick coupling?
Refluid quick couplings can work at a maximum pressure of 300 Bar from -30ºC to 150 ºC. It should be analyzed in each case according to the standard and diameter, depending on the working range of the specific coupling.
Types of quick couplings
In general, a quick coupling or connector can be classified according to the working fluid as a pneumatic quick coupling or hydraulic quick coupling. However, within this classification, we find one that is based on the design and the coupling system.
Based on the design and coupling system we find the following types:
Ball quick coupling
Roller quick coupling
These are my favorites, but there are more:
Pin-Lock quick connector
Bayonet quick coupling
Screw-in quick coupling
Screw to connect
This type of coupling is for high pressure when there is pressure on both sides. A normal coupling is difficult to connect or disconnect if there is too much pressure. This leads to an unwanted increase in downtime. You can easily thread screw-type quick couplings between the male and female parts. This allows connection and disconnection of the coupling even when working at very high pressures.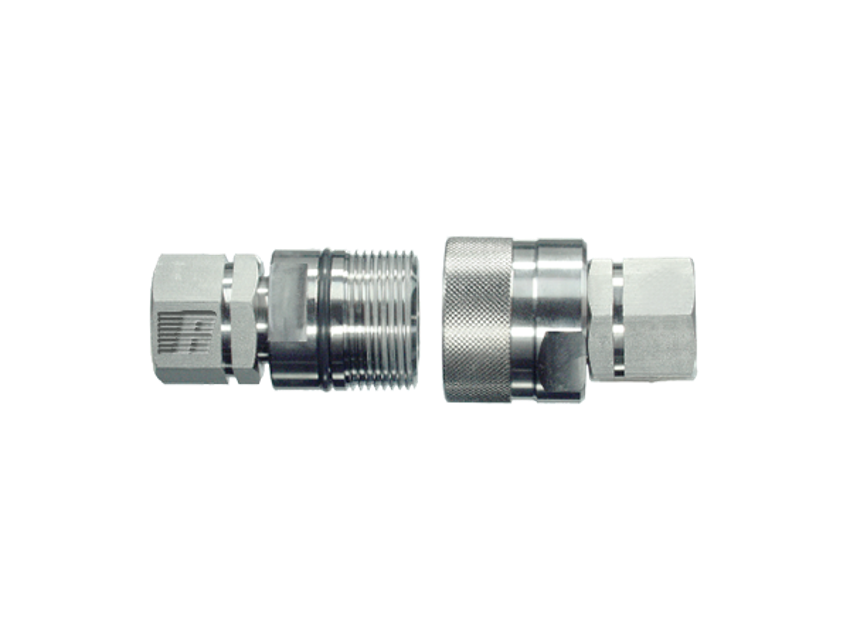 RedFluid's quick coupling
RedFluid quick couplings have valves on both sides of the coupling for zero fluid spillage. Both the male and female parts are retained to ensure leak-free connection and disconnection (I sound like I'm throwing flowers). Female threads can be BSP or NPT.
They are available in 316 stainless steel, PTFE, and FKM (VITON), and can be provided with BSP (DIN / ISO 228 ) or NPT (ASME B1.20.1) thread. In addition, all quick connectors are according to the main construction standards, such as the standard:
ISO 7241 Form A
ISO 7241 Form B
With connections for threaded fittings DIN 2353 / DIN EN ISO 8434-1
ISO 16028 Flat-Face (Flat-Face)
In addition to the types mentioned above, we also offer a special flat-face quick connector in accordance with ISO 16028. This type of quick connector is provided with a ball-locking system. Thanks to its flat construction, it prevents dust particles and other contaminants from entering the system and makes cleaning easier.
Hey, and if you have any further questions please contact us. And if you prefer you can give us a call, it always makes our day.
And if you want to contribute a grain of sand, leave your comment at the end of the article.