As described in our post on the TOE or TBE nipple, a SWAGE pipe nipple, also called SWAGE fitting or reduced nipple, is one that allows reductions to be made by taking the flow from one pipe diameter to a different one and where we explained that they can be concentric or eccentric depending on the type of connection to be made.
Let me show you a picture of the difference between Concentric Swage Nipple and Eccentric Swage Nipple: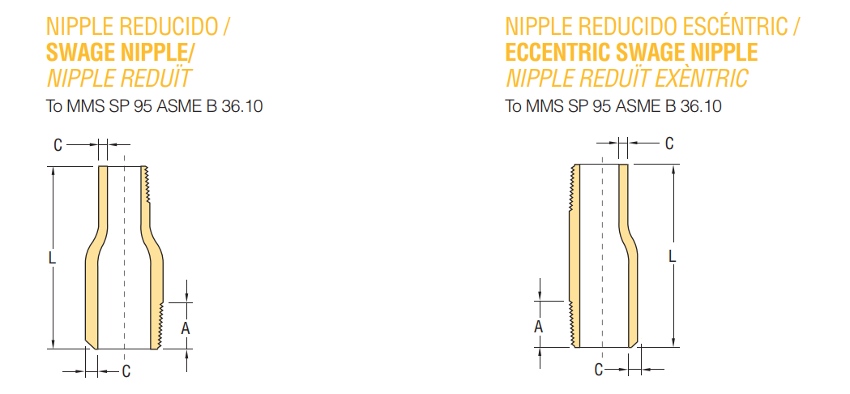 Let's go to the most important details of the SWAGE pipe nipple or reduced nipple:
Classification according to the ends of the reduced nipple
When selecting and ordering a reduced nipple or SWAGE pipe nipple, the type of ends required for proper installation must be specified. This is why it is important to know this classification:
SWAGE threaded pipe nipple
As its name indicates, this type of reduced nipple has both threaded ends and its thread is normally designed under the ANSI B 1.20.1 standard referring to American tapered thread for NPT pipes. It is also available in BSPT or gas thread according to ISO7/1 or EN10226-1. On other occasions, some customers ask for it in the BSPP thread (Parallel Gas EN10226-1 or EN ISO 228-1 ).
A reduced bottle nipple is used to connect two pipes of different diameters. The thread can be on one end or on both ends. When only one end has a male thread, it is the threaded end while the other end remains open for welding (the delivery end). Next SWAGE:
SWAGE pipe nipple flat
Again, the name indicates the type of end of the SWAGE nipple and in this case, it is a flat end. A flat end is like cutting the nipple and leaving it as it is cut flat with no bevel. Normally, they are ordered flat when we want to insert it into an SW-type weld socket. SWAGE nipples with flat ends are installed by socket weld socket weld SW type ASME ANSI B16.11. Let's go to another one:
SWAGE pipe nipple bevel BW
This third type of SWAGE nipple features an end bevel designed in accordance with ANSI B 16.25. It refers to the standards for butt weld which is the type of connection used with these nipples. Also called Butt weld or BW. Similar to the previous type, it is recommended to take into account the pressures and vibrations of the system when installing this type of nipples.
A little picture for a better understanding: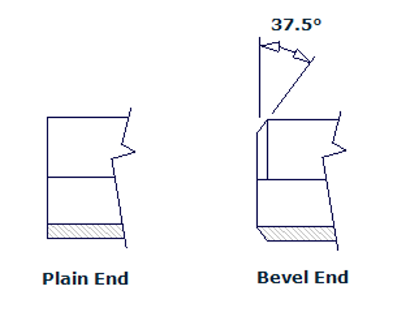 Nomenclature according to the ends of the reduced nipple
The next step in selecting and ordering a SWAGE pipe nipple is to know the nomenclature of the specific type needed. The nomenclature used is as follows:
P.B.E: Plain Both Ends
P.L.E: Plain Large End
P.S.E: Plain Small End
B.B.E: Bevel Both Ends
B.L.E: Bevel Large End
B.S.E: Bevel Small End
T.B.E: Threaded Both Ends
T.L.E: Threaded Large End
T.S.E: Threaded Small Ends
B.O.E: Bevel One End
P.O.E: Plain One End
T.O.E: Threaded One End
Generally, when both ends are of the same type there is not much of a problem. However, when you need the ends to be of two different types, you must combine the nomenclatures properly. Otherwise, there is often a mess.
For example, ordering a SWAGE nipple PLE-TLE would not make sense because we are only referring to the larger diameter end. The correct thing would be PLE-TSE which means a SWAGE nipple with a flat larger end and threaded smaller end, or any similar combination as the case may be.
Reduced nipple dimensions and wall thickness (SCH)
The dimensions and thickness of a SWAGE nipple are data according to international standards determined by norms. As a general rule, you want the nipple to have the same thickness as the pipe.
In general, the dimensions of a SWAGE nipple fall under the British Standard BS 3799 and the MSS SP95 standard of the Manufacturers Standardization Society of the Valve and Fittings Industry (MSS).
The ANSI B36.10 / 19M standard is used for the thickness. Remember that the number in the designation does not mean that it is the wall thickness of the nipple. For example, a SWAGE nipple with SCH80 does not have a thickness of 80, only a nomenclature. You can see the dimensions of the SWAGE pipe nipple you are looking for in this article: https://redfluid.es/en/difference-between-tubing-and-piping/ (I love this article).
Difference between Concentric / Eccentric Reduction and Swage Nipple
The main difference is the way they are manufactured and their length dimensions.
Both a concentric reducer (RC or CR) and a Swage Nipple are used to pass different pipe diameters.
BUUUUUUUT a concentric reduction type BW according to ASME B16.9 is always type BW x BW, it cannot have a threaded finish, i.e. it must always be welded. ASME B16.9 starts from 1/2″ and Swages can be from 1/8″.
The way of manufacturing is also different, the reducers are made from tube or sheet metal and the Swages Nipples are made from round or forging.
I leave you some pictures that everyone likes: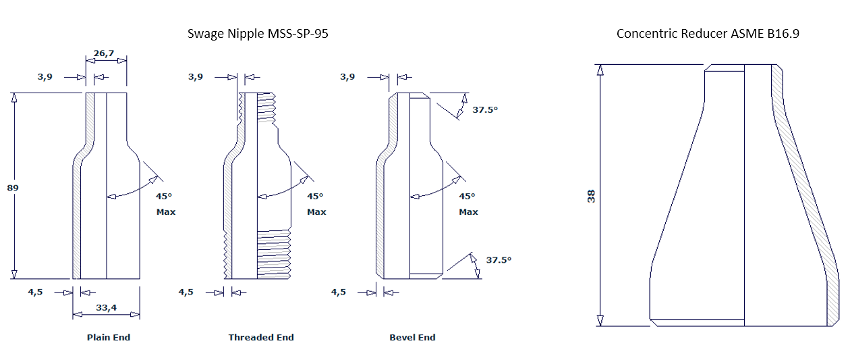 These photos are very engineering. If you want to you can download them and save them in your computer. It's always good to have everything well written down.
Hey, and if you want to contact me (my name is Enric by the way) click here. We'll get back to you ASAP.