When buying fittings for a piping system, there are a series of characteristics and specifications that must be known to define the type of fitting needed for the application in question.
However, many times we get carried away by what other people say, and it happens that those people may have a wrong concept of the fitting, and we end up buying something we don't want or don't need. Then, once on-site, we start to mess up and rush.
Among the fittings commonly confused and mistakenly purchased are those in the pipe nipple or nipple or pipe nipple group, the most popular being the nipple TOE and nipple TBE.
If you are one of those who have had a hard time ordering the wrong fitting, or need a type of nipple but are not sure which one is right, read on as I tell you the 10 things you should know about the nipple TOE and the nipple TBE.
What is a pipe nipple?
Before giving you the details to properly order a pipe nipple TOE or a pipe nipple TBE it is important to be clear about what these fittings are in general.
A pipe nipple is nothing more or less than a small piece of pipe. A small piece of pipe.
Its size is specified according to the length of this section of pipe and the diameter. It can be with threaded or flat ends. And both ends can be the same or different. It's that easy!
What is a pipe nipple TOE?
Specifically, TOE stands for "threaded one end", which means threaded at one end when translated. Thus, we can say that a nipple TOE is a nipple that has one threaded end and one unthreaded end where sometimes a bevel is added to join it to another fitting or piece of pipe by butt welding.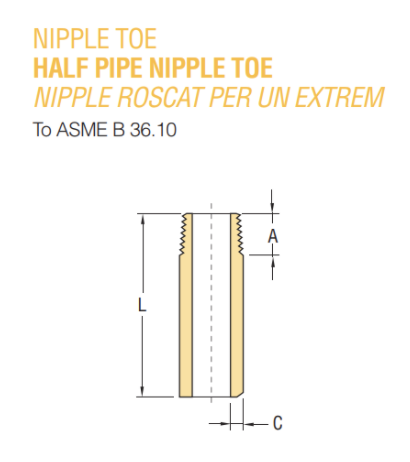 What is a TBE pipe nipple?
In this case, we have the acronym TBE for "threaded both ends" which means threaded at both ends. In other words, this is the most typical type of nipple as described above for connecting two parts or fittings with female threading.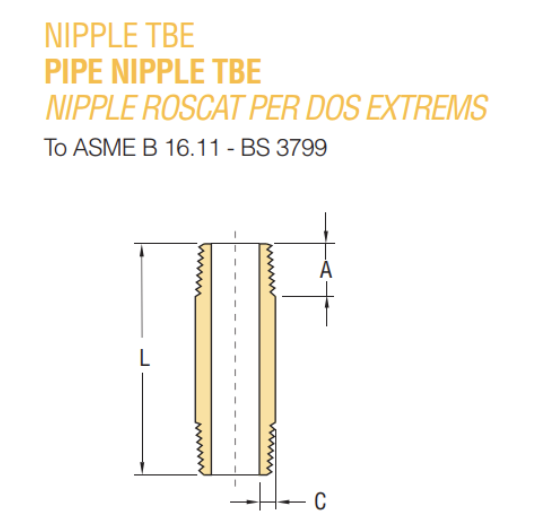 ¿Qué es un pipe nipple PP o PBE?
In this case, we have the acronym PP or PBE for "Plain both ends" which means flat at both ends. In other words, a piece of pipe cut to size. It is used for SW (Socket Weld) or BW (Butt Weld) welding. It can have a flat or beveled finish.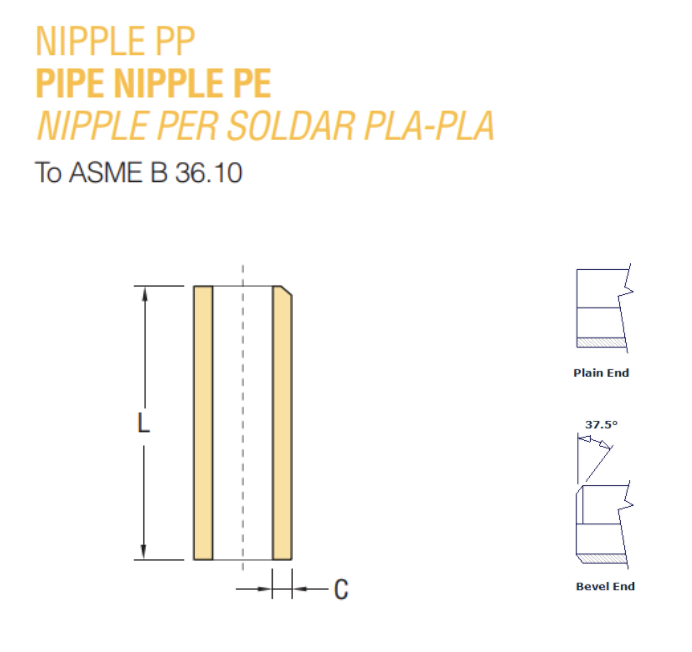 Now that we are clear on what each of these connections is, let's look at the 10 things you should know about the nipple TOE and nipple TBE before ordering.
10 things you should know about nipple TOE and nipple TBE
1. Nipple diameter
This is one of the main problems when ordering nipples. The diameter of the nipple to be ordered should take into account the type of thread and the nominal diameter of the pipe, not only the pipe diameter. The nominal diameter refers to the internal diameter of the pipe, which also varies according to the thickness or schedule of the pipe. This diameter is used to determine the diameter of the nipple TOE or nipple TBE in the threaded area known as OD (outside diameter) to ensure that the nipple ordered can be connected to the pipe in question. For example, by downloading our datasheet you can easily see that if your pipe is 1/8 inch NPT threaded, the corresponding nipple would be 10.3 mm OD for Schedule 40 and 80 pipe thicknesses. You can see a table of the most common diameters here:
NPS
DN
OD [in (mm)]
Sch. 40s/40
/STD
Sch. 80s/80
/XS
Sch. 160
XXS
1/8
6
0.405 (10.29)[8]
0.068 (1.727)
0.095 (2.413)
—
—
1⁄4
8
0.540 (13.72)
0.088 (2.235)
0.119 (3.023)
—
—
3⁄8
10
0.675 (17.15)
0.091 (2.311)
0.126 (3.200)
—
—
1⁄2
15
0.840 (21.34)
0.109 (2.769)
0.147 (3.734)
0.188 (4.775)
0.294 (7.468)
3⁄4
20
1.050 (26.67)
0.113 (2.870)
0.154 (3.912)
0.219 (5.563)
0.308 (7.823)
1
25
1.315 (33.40)
0.133 (3.378)
0.179 (4.547)
0.250 (6.350)
0.358 (9.093)
1+1⁄4
32
1.660 (42.16)
0.140 (3.556)
0.191 (4.851)
0.250 (6.350)
0.382 (9.703)
1+1⁄2
40
1.900 (48.26)
0.145 (3.683)
0.200 (5.080)
0.281 (7.137)
0.400 (10.160)
2
50
2.375 (60.33)
0.154 (3.912)
0.218 (5.537)
0.344 (8.738)
0.436 (11.074)
2+1/2
65
2.875 (73.03)
0.203 (5.156)
0.276 (7.010)
0.375 (9.525)
0.552 (14.021)
3
80
3.500 (88.90)
0.216 (5.486)
0.300 (7.620)
0.438 (11.125)
0.600 (15.240)
3+1/2
90
4.000 (101.60)
0.226 (5.740)
0.318 (8.077)
—
0.636 (16.154)
2. Nipple length
Similar to the diameter, the length of the nipple also includes the thread, so it is also important to know a length known as the minimum useful thread length generally defined by the letter A. For example, the total length of a TBE nipple will be the sum of the two minimum useful thread lengths plus the length of the unthreaded part of the nipple.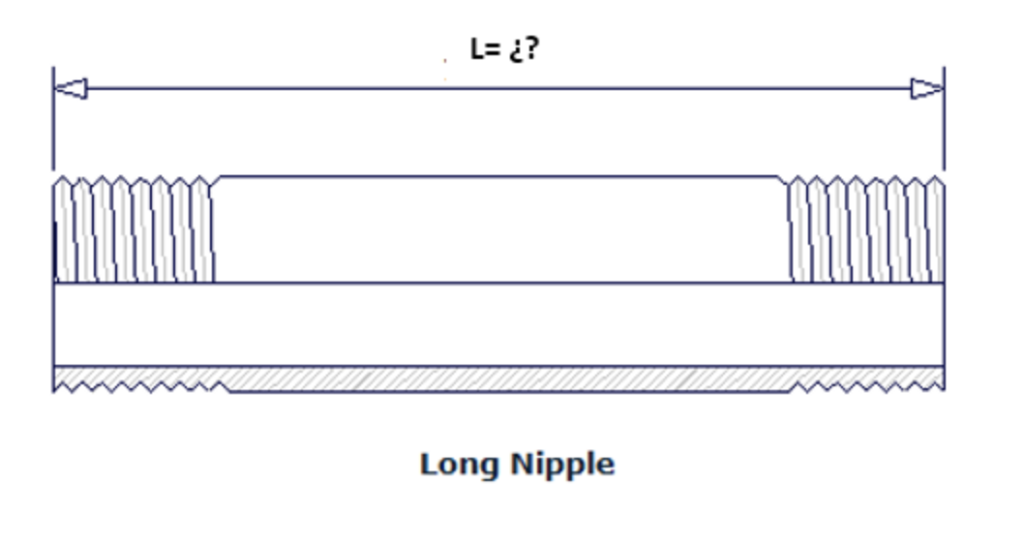 3. Thickness or Schedule
Also called the pipe or fitting's schedule, this dimension is associated with the diameter and thickness of the pipe or fitting. The thicker the pipe, the more pressure it can withstand. The higher the thickness number, the higher the resistance of the pipe or fitting and the higher pressures it can work at. This allows determining the wall thickness according to the diameter of the pipe.
For example, for an SCH 40 pipe with a diameter of half (1/2) inch, a nipple with a wall thickness of 2.77 millimeters corresponds, but for a Schedule 80 with the same diameter, the wall thickness will be 3.73 millimeters as can be seen in the downloadable technical sheet.
4. Maximum Allowable Pressure (Nominal Pressure)
This value is related to the thickness (Schedule), the diameter, and the material of the pipe or nipple. As mentioned above, the greater the thickness, the higher the resistance. However, some materials may need a lower thickness to work at the same nominal pressures as others, so it is also important to know the material. As shown in our datasheet, Red Fluid offers nipples for pressures of 3000 and 6000 psi as standard but PN20 and up to 100000 psi (+6000 bar) are available.
5. Material
In addition to knowing the material to ensure that it is suitable for the pressure rating of the system, it is also important to ensure that it will not have any undesirable reaction with the system fluid. The material must be compatible with the fluid and the pipe where it is welded or threaded. The most common materials for nipple TOE and nipple TBE are carbon steel ASTM-A 106/B stainless steel AISI-316/316L.
6. Type of connection Screw or Solder
You must remember from the definitions explained above that the TBE nipple has threads on both ends and the TOE nipple has threads on only one end while the other end can be welded. The PBE has both ends to be soldered. In addition, when the connection is threaded it is also important to determine the type of thread to match the female thread to which it will be connected.
7. Thread type
To determine the thread you must look at the thread designation of the pipe in question. The most common is NPT (National Pipe Threads) Asme b1.20.1 . However, threads according to other standards are also available, including EN10226-1 / BSPT / ISO7 / BSPP. What you should do is refer to the standard to ensure proper selection.
8. Certifications and Standards
This is another important point when ordering a nipple TOE or nipple TBE. Certifications such as EN10204 3.1 or 2.2 or approvals from companies in specific industries such as oil and gas can guarantee the quality and reliability of the fitting.
There are sizing standards and lengths, among them the most famous are:
ASME B36.10: Tubos de acero forjado soldados y sin soldadura
ASTM o ASME A733 03 Tubos de acero al carbono y acero inoxidable austenítico
Entronque figura 149 EN 10241 DIN 2982 ISO 4144 de baja presión
Material standards:
There are as many materials a nipple can be made of, in duplex, superduplex, 904, alloy 20, 316, 304, A105, WPB, A106 etc.
MATERIALS: ASTM A312 304 o 316
EN10216-5
ASTM A106/106M-19ª GRB
Pressure standards:
Thread or end standards:
Thread NPT: ASME B 1.20.1
Thread BSPP: EN10226-1 / BSPP / ISO7/1 / EN ISO 228-1
Thread BSPT: EN10226-1 / BSPT / ISO7/1
Butt welding: ASME B 16.25
9. Concentric or eccentric reduction (bottle-type)
There is a type of nipple known as a SWAGE nipple that allows reductions to be made by taking the flow from one pipe diameter to a different one. These reductions can be concentric or eccentric and can be confused with a TOE nipple or a TBE nipple since their connection methods are the same. It is important to keep in mind that if your connection is vertical you should use a concentric and if it is horizontal the best option will be an eccentric reduction.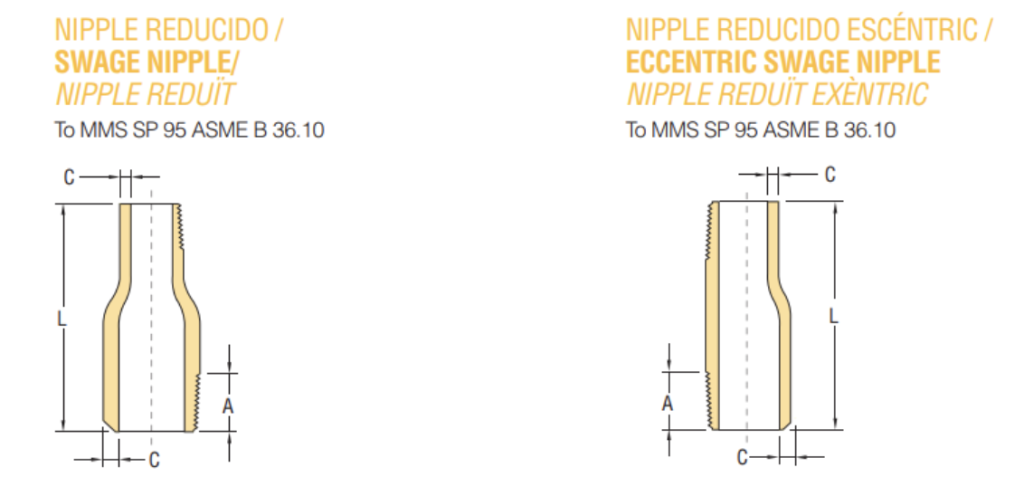 10. Hexagonal Nipple or Machon
When ordering your nipples you should be careful if you are told that you will receive a hexagonal nipple. In this case, it will usually be confusion, and instead of receiving the nipple TOE or nipple TBE that you need, you will be receiving what is known as a male nipple. That has a little piece of a hexagon in the middle.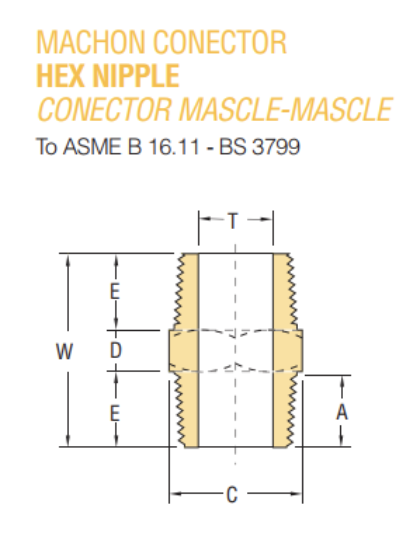 Conclusions
With everything I have explained today you should have no problem placing your next TOE nipple or TBE or PBE nipple order. But before I say goodbye, I want you to know that at RedFluid we have a varied stock of pipe nipples to meet your needs.
Also, if no standard pipe nipple in our stock meets your specifications, you don't have to worry. We have a custom valve and fitting manufacturing service that we have offered for 35 years, so you can rely on our knowledge and experience to manufacture the custom nipple to the length, diameter, pressure, the material you need.
Of course, if you still have questions about our products and services, or you are not sure which is the best option for your application, don't hesitate to contact our team of experts right now. It will be our pleasure to help you.