What about stainless steel pipes? What about high pressure?
Let's focus on that.
Fittings are essential in any pipe system and are used to connect pipes. From an elbow to deviate the flow at a 90-degree angle to a fast coupling to easily engage and disengage a part of the system, these are pieces that increase the performance and versatility of any pipe system.
Stainless steel pipe fittings for high pressure are a great solution because stainless steel is a durable material with high corrosion resistance. Therefore, it makes the system run smoothly over extended periods while operating at high pressures and in highly corrosive environments or handling corrosive fluids.
What do you want or what do you need? Keep reading.
Fittings figures for huge pressure: Elbow, Coupling, and Nipple
For high pressure, the most common fittings in stainless steel pipe are elbows, couplings, and nipples.
Elbow ASME B16.11 o B16.9
These are fittings used to alter the angle or direction of the flow, commonly providing a 90-degree or 45-degree change of direction. The radius of the curve will define how quickly this change of direction occurs.
Coupling NPT or SW
These fittings connect two straight pieces of pipe of the same diameter. Some couplings are called fast couplings because they allow connecting and disconnecting the pieces faster than with a standard coupling. These are a great solution when using stainless steel pipe fittings in industries that require pipe systems to be cleaned regularly, like the food and dairy processing industries.
Nipple TBE or PBE
A general definition would be that a nipple is a short piece of pipe threaded at both ends. However, a nipple can also have flat ends depending on the type and specification. Also, both ends could be different. There are two types which are the most common ones, the nipple TOE and the nipple TBE. You can learn more about them in this comprehensive guide for selecting a nipple.
Weld or thread fitting? Which one do we need for high pressure?
As well as any other group of fittings, you can find stainless steel pipe fittings with two types of connection, weld, and thread.
The decision to use a weld or thread fitting will depend on the application. If you want a long-lasting connection, the best choice is a weld fitting. On the other hand, if the connection is less critical, a threaded fitting may be the right choice to avoid the time and cost associated with the welding process.
What is the difference between B16.11 or B16.9 standards?
ASME B16.11 can be a welded connection Socket Weld type or a Threaded connection NPT. On the other hand, ASME B16.9 always is a welded connection in Butt Weld type. About the B16.9, you always need to mention the Schedule of the Pipe or Wall thickness (SCH10, SCH40, SCH80, etc…), and in the ASME B16.11, you need to mention the rating that can be 3000# for 3000 PSI pressure (around 250 bar) or 6000 for a range around 450 bar.
BSP, NPT, or SW fittings. What are the differences?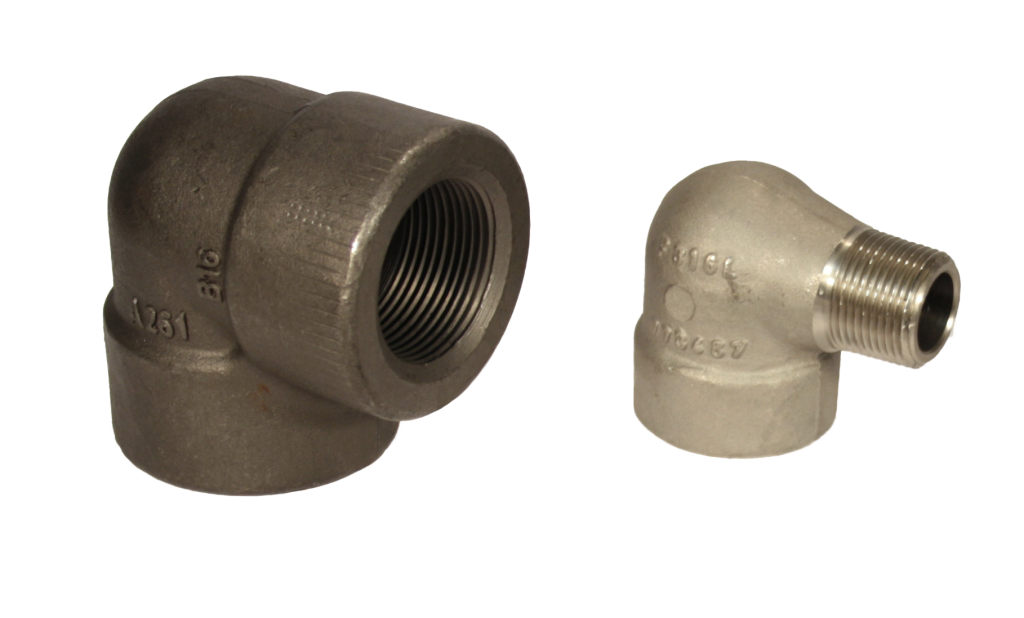 Following the previous point, there are three main types of fittings according to their connection. These are BSP and NPT for threaded fittings and SW for weld fittings.
BSP stands for British Standard Pipe and refers to using the British standard for threads. For BSP fittings, the thread uses a taper angle of 55 degrees, and there are two different variations, the BSPT (British Standard Pipe Tapered) and the BSPP (British Standard Pipe Parallel).
On the other hand, NPT stands for National Pipe Tapered, the American National Standard for pipe threads, covered by the ASME B1.20.1 specification and based on 60° thread flank angles.
You can learn more about the differences between the three types in our definitive guide to differentiate threads.
Finally, the SW stands for Socket Weld, the most common way to install weld fittings.
Stainless steel pipe fitting pressure ratings
The pressure ratings of stainless-steel fittings depend on the fitting class and typically follow ASME standards. For example, as per ASME B16. 11, socket weld fittings come in a pressure rating of 3000 psi, 6000 psi, and 9000 psi. Depending on the temperature, the pressure will change too. You can see it in the below table: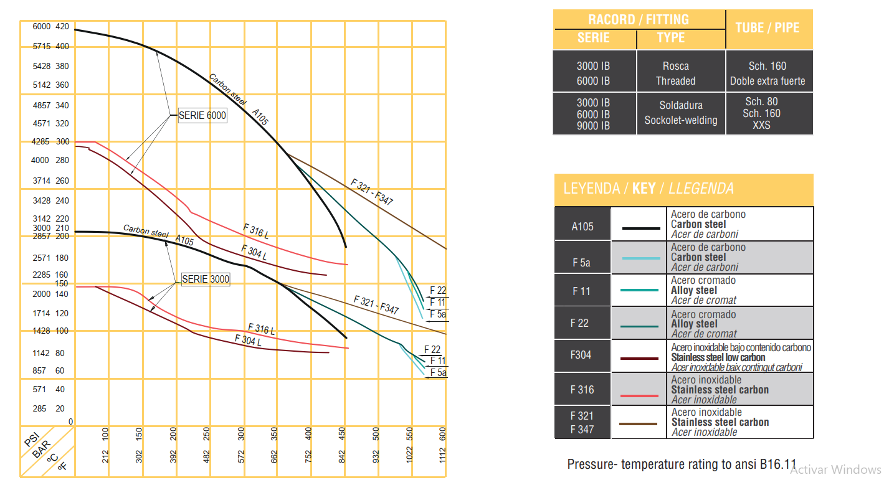 Forged steel fittings materials
Forged steel fittings can be found in a series of forged steels that include:
Carbon steel fittings ASTM A105
Low-alloy steel fittings ASTM A182 F11 or F91
Stainless steel fittings ASTM A182 316 or 304
Other alloys or qualities very common which we can manufacture:
CARBON AND ALLOY STEEL:
A105.N – A106.B (HOT DIP GALVANISED, ELECTROPLATING)
A350: LF2, LF3, LF6
A694: F42, F52, F60, F65, F70.
STAINLESS / AUSTENTIC STAINLES STEEL :
A182 F : 304/304L, 304H, 310, 316/316L, 316H, 316Ti, 317L, 347/347H, 321/321H, F20, F44, F904L
LOW ALLOY :
A182 : F5, F9, F11, F22, F91.
FERRITIC AUSTENTIC STAINLESS STEEL :
DUPLEX : F51 / F60; SUPER DUPLEX : F53/F55;
NICKEL ALLOY STEEL :
INCONEL: 600 – 625 – 718.
INCOLLOY: 800 – 800H – 800HT – 825.
HASTELLOY: B2 – B3 – C22 – C276 – C2000.
MONEL: 200/201, 400, K500.
CARPENTER 20CB3 – ALLOY 20 – UNS N08020 OTHERS :
TITANE: T40 Gr 2 – UNS R50400
Cu-Ni 90/10, 70/30
BRONZE
CLADDED
3000 or 6000 fittings. What is the difference?
As was described above, fittings described as 3000 or 6000 correspond to series with pressure ratings of 3000 or 6000 psi.
Also, these fittings can be found in different sizes and have different specifications as per ASME B16.11. You can find more information by clicking here or downloading our full catalog.
And if the only thing you need is to contact with, just click here.