You have probably already asked yourself why people prefer the Double Ring Fitting or the DIN 2353 single ring fitting? Today you've come to the right place to find the answer because here I'll answer the questions you didn't dare to ask.
Let's get down to business!
What is a Double Ring Fitting?
Understanding what a double-ring compression fitting is is helpful in understanding why it is a favorite among most people. Simply put, a double-ring compression fitting is a type of compression fitting also known as a Swagelok® ® type, after the name of the company that developed this type of fitting, which is typically used in systems that require a perfect seal for high-pressure fluids, but with the flexibility to assemble and disassemble the connection quickly and regularly that only this type of fitting offers.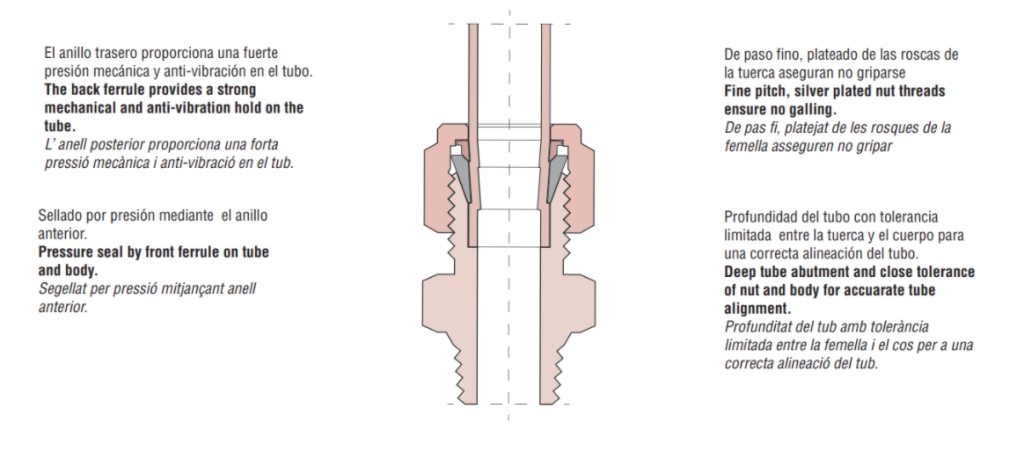 What is a DIN 2353 single-ring compression fitting?
Since you know the double ring compression fitting, you can easily imagine what the DIN 2353 single ring compression fitting is. This fitting is designed according to DIN 2353 and DIN EN ISO 8434-1 with W-shape DIN 3861 (24° cone) and as its name suggests it has only one compression ring to generate the sealing of the connection.
The DIN 2353 fitting was developed as an alternative to traditional connections that require a lot of time, effort and even special tools for installation, making them a real headache for systems that require regular assembly and disassembly as described above.
In addition, traditional connections generally do not offer a very good seal, so it is very common to generate leaks, especially when working with fluids such as steam or hydrogen at high pressures where the only alternative was to weld.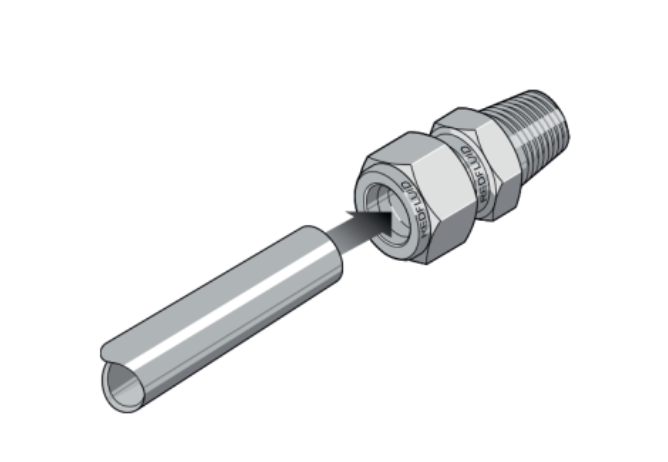 How do DIN 2353 single ring or double ring fittings achieve sealing?
To understand how they achieve an almost perfect seal, let me tell you the principle of operation of each fitting separately.
A DIN 2353 fitting is provided with a ring that serves two purposes: to generate the grip to hold the connection in position and to generate the seal. In addition, a DIN 2353 single ring fitting has a hexagonal nut that, as it is tightened with a standard wrench or spanner, deforms the ring into a conical shape (biconical fitting) until it is clamped and fixed on the tube or pipe of the system, thus generating a very secure grip and a practically perfect seal.
It is very well explained in this video of the competition,
On the other hand, the Redfluid double ring fitting works in a very similar way. Similarly, with a hex nut, the rings are deformed, in this case one front and one rear ring. However, the advantage of having two rings is that each ring is designed and optimized to perform a specific function.
According to the design description, the front ring creates a seal over the body of the fitting and over the outside diameter of the tube or pipe in question. As the hex nut is tightened, the back ring displaces the front ring axially and applies grip on the tube or pipe radially.
You can see the original video of how it works here:
What should you keep in mind when using your DIN 2353 or double ring fitting?
Although a DIN 2353 single-ring and a double-ring fitting are usually very reliable and highly durable couplings, there are certain things to keep in mind to ensure that you will not have any problems when using them.
Estas son algunos de los aspectos más importantes:
Rings and nuts tend to wear the most, so it's a good idea to keep a few spares on hand.
Be careful with the nut. If you happen to remove it to replace it, or if it were to fall off by mistake, the rings could easily be lost, so check that they are in place and oriented correctly before doing any installation.
Pre-loading the nut may be a good idea before completing the final tightening on the pipe or tubing to ensure proper grip and sealing.
Be sure to always use DIN 2353 and double ring fittings with the proper sizes and pressure ratings for the rest of the system. This will prevent your fittings from breaking and leakage problems. Never mix millimeter mm measurements with inch measurements.
Although it is very difficult to have leakage problems when using a DIN 2353 or double ring fitting, it is always a good idea to perform pressure tests to ensure proper installation.
These are just some of the most general recommendations. However, it is best to consult an expert on these issues whenever in doubt.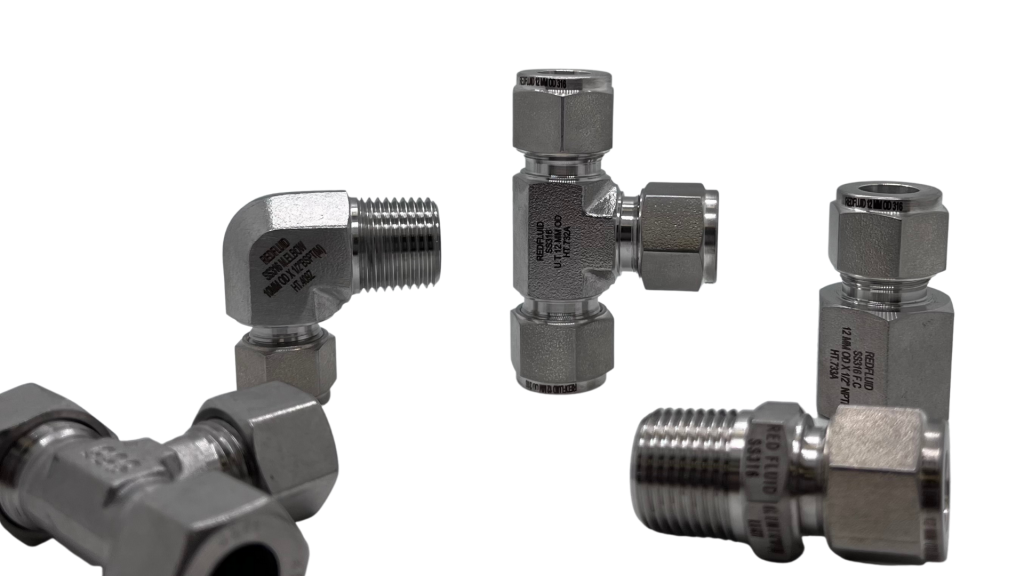 Double Ring Fitting and DIN 2353 Fitting with RedFluid
If you are in need of a double ring or DIN 2353 fitting for your hydraulic system, look no further.
Redfluid offers a wide variety of fittings, valves and accessories DIN 2353 and Double Ring type interchangeable with leading brands such as Swagelok® or Parker®.
Redfluid's DIN 2353 fittings are designed to work in systems with pressures up to 800 bar and we offer different series, sizes and shapes including straight fittings, crosses, tees, among others. In addition, we cover stainless steel and carbon steel fittings as standard. For more information, you can download Redfluid's DIN 2353 fittings datasheet here.
You can see the working pressures of DIN 2353 fittings here:
| | | | |
| --- | --- | --- | --- |
| Series | mm | Thread | Bar |
| | 4 | M8 × 1 | 100 |
| | 5 | M10 × 1 | 100 |
| | 6 | M10 × 1 | 100 |
| LL | 8 | M12 × 1 | 100 |
| | 6 | M12 × 1,5 | 250 |
| | 8 | M14 × 1,5 | 250 |
| | 10 | M16 × 1,5 | 250 |
| | 12 | M18 × 1,5 | 250 |
| | 15 | M22 × 1,5 | 250 |
| | 18 | M26 × 1,5 | 160 |
| | 22 | M30 × 2 | 160 |
| L | 28 | M36 × 2 | 100 |
| | 35 | M45 × 2 | 100 |
| | 42 | M52 × 2 | 100 |
| | 6 | M14 × 1,5 | 630 |
| | 8 | M16 × 1,5 | 630 |
| | 10 | M18 × 1,5 | 630 |
| | 12 | M20 × 1,5 | 630 |
| | 16 | M24 × 1,5 | 400 |
| | 20 | M30 × 2 | 400 |
| S | 25 | M36 × 2 | 400 |
| | 30 | M42 × 2 | 250 |
| | 38 | M52 × 2 | 250 |
We also offer a variety of Swagelok® double-ring tube fittings for pressures up to 700 bar and temperatures from -196°C to 649°C in materials such as stainless steel, Alloy, Superduplex, and brass. In addition, these standard fittings are capable of operating in the most extreme conditions, including high vibration levels, without losing their grip and hermetic seal. You can learn more by downloading Redfluid's double ring fittings datasheet here.
You can see the working pressure range of Redfluid double ring fittings here: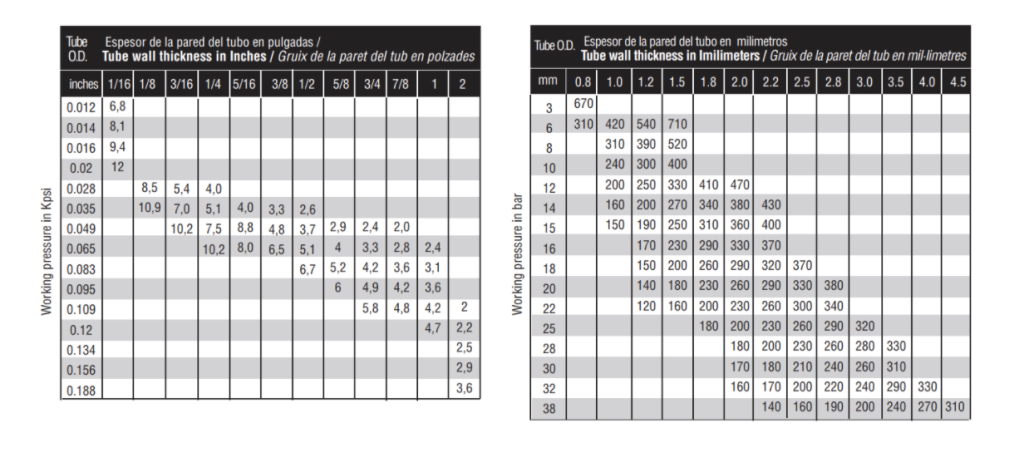 Best of all, in the rare case that none of these standardized fittings meet the requirements for your specific application, we have a custom fabrication service that we have offered for 35 years to ensure that our customers always get what they need, and we can manufacture the fitting in the sizes and materials you require.
If you are ready to place your order or want to clarify any details about our fittings or any other of our products, you can contact us now and we will be happy to help you.